BeachAbility
C.I. Travel Group are delighted to announce our support for BeachAbility, a Jersey charity helping people with mobility difficulties to experience the sights, sounds and enjoyment of Jersey's magnificent beaches.
As we prepare to welcome thousands of visitors to Jersey during the summer months, it is fantastic to know that those who may have previously felt left out or unable to join in, can now enjoy some of the most outstanding beaches in Europe.
About BeachAbility
Getting onto Jersey's beaches poses a huge challenge to people who are unable to walk or have difficulty walking either through a temporary injury or permanent disability.
BeachAbility supplies specially designed chairs that are available to cope with difficult terrains such as soft sand, stones and bumpy slipways and are available to both residents and visitors to the Island.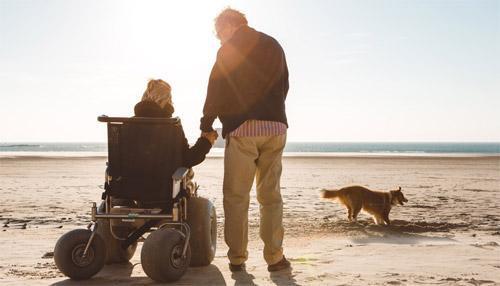 The idea for BeachAbility came from Founder, Sharon Gray, who was diagnosed with Motor Neurone Disease (MND) in January 2012 and soon after became a wheelchair user.
"One of my greatest pleasures was walking my dog on the beach but I couldn't get onto the beach with my normal wheel chair. One day when sitting on the slip at St Ouens, I bumped into my ex-physiotherapist Suzie MacLagan (now the Secretary for BeachAbility), who told me that it had always been a dream of hers to be able to offer access for disabled people onto the beach and so the idea developed."
The funds for the first chair were raised by Sharon's friends, family and the Ladies of Les Mielles Golf Club, who held a charity event for Sharon, back in July 2012, raising a substantial amount of money. Shortly after, BeachAbility was able to purchase its first wheelchair costing £3,000.