Holidays for Heroes Jersey
For every one of our bookings travelling to Jersey during July and August 2014, C.I. Travel Group have donated one pound to Holidays for Heroes Jersey. This pledge has resulted in a £2,000 donation, made to the charity on 11th September, the same day as Jersey's International Air Display.
Holidays for Heroes Jersey is a Jersey charity whose aim is to provide a week's holiday on our beautiful island, to any past or present member of HM Forces injured, in mind or body, whilst during or resulting from their service.
H4HJ was founded by Dawn & Richard Woodhouse in August 2008. Since their launch, the charity has provided more than 1,600 holidays and, thanks to the generous support received, the charity is going from strength to strength.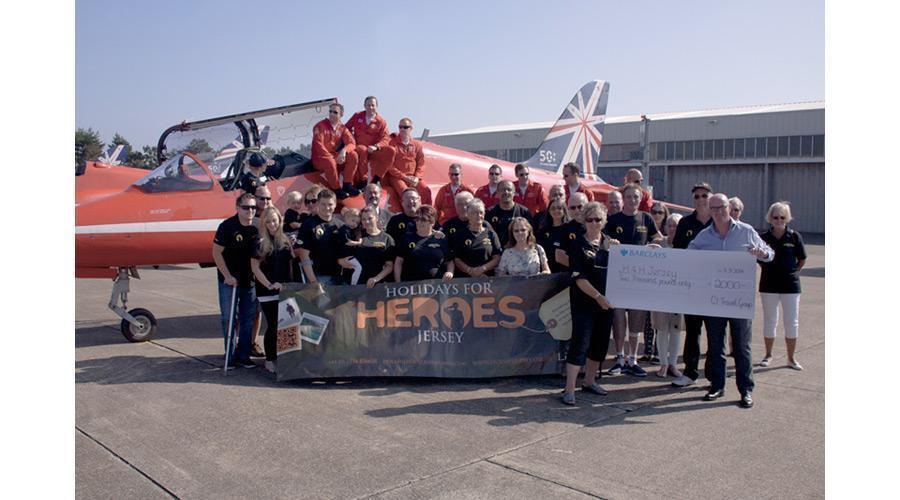 How it all began
During the 2007 Remembrance Day Service at the Parish Church of St Clement in Jersey, the Rector's sermon inspired Dawn to consider providing holidays for injured service personnel. In February 2008, Richard & Dawn thought perhaps they would offer a holiday to possibly one or two injured boys in their home. Within a short time and after innocently mentioning what they intended to do, donations started to come in, with the suggestion, "do it properly and put the boys into a nice hotel".
And so Holidays for Heroes Jersey (H4HJ) was established and launched on 28th August 2008, by The Lieut. Governor of Jersey, His Excellency Lieut. General Sir Andrew Ridgway. With considerable help from founder committee members and The Not Forgotten Association, seven heroes were present at the launch. H4HJ's charitable status was confirmed by Jersey's Tax Authority and membership of the Association of Jersey Charities was approved.
Thanks to the amazing generosity of Islanders and the local business community, money came pouring in and tourist attractions offered complimentary admission and facilities. Many people volunteered to help with transport and other duties.