A Foodie Break
In Jersey

Jersey is renowned for its Jersey Royals and although these little oval gems are incredibly popular, there is much more to our island food culture.
Whether you are looking for a casual snack beside the beach or a Michelin star experience, Jersey has it covered. The freshest seafood, locally farmed produce and dairy from our famous Jersey cows provide an abundance of ingredients - all within 45 square miles.
There is so much choice it is difficult to know where to begin; so we have gathered a selection of our top recommendations!
Scroll to:
Casual Seaside Dining / Local's Favourites / Michelin-Starred Dining / Afternoon Teas
Picnics / Insider Knowledge / Whet Your Whistle
Casual Seaside Dining
Bonne Nuit Beach Café, St. John
With fresh fish being collected seconds from the café's front door, the newly owned Bonne Nuit Beach Café has made strides since its re-opening in 2015. Located in a beautiful and secluded bay, this relaxed restaurant is a beach café by day and an Asian food hotspot at night. If being next to the beach isn't enough for you, then feel free to take the food away and eat it on the beach itself!
The Crab Shack, St. Brelade
Enjoy an outside table and sea views of St. Brelade's Bay; The Crab Shack is the perfect relaxed setting in which to enjoy local seafood, time-honoured favourites and daily specials. This is the place to relax in the sun during summer or in the warm interior during the winter.
El Tico Beach Cantina, St. Ouen
Located in one of the island's most stunning positions, El Tico Beach Cantina is the place to enjoy great local food and a glass of wine whilst watching the sun sink into the Atlantic Ocean. Food is described as "food for friends". It is real food that is big on flavour, freshness and quality.
The Bass & Lobster, Gorey
When you want something a bit special, look no further than The Bass & Lobster. You go to this restaurant for two things; local food and excellent service. With its namesake dishes constantly on the menu, you'll have your seafood needs satisfied whilst enjoying being located along a beautiful stretch of Gorey coastline.
The Good Egg, Havre Des Pas
Fresh, simple, loving food. The Good Egg Beach Café is located by the sea on Havre des Pas promenade. It's the perfect location to enjoy our award winning beach breakfast and pancakes as well as V/VG options and a new children's menu.
Plemont Beach Cafe, St. Ouen
Cleverly situated at the top of the large staircase down to Plemont Bay, the beach café is a family run business that is popular with both locals and visitors, alike. The café prides itself on using genuine Jersey produce whenever possible. The views are stunning, the staff are friendly and the food is more than you would expect from a beach café!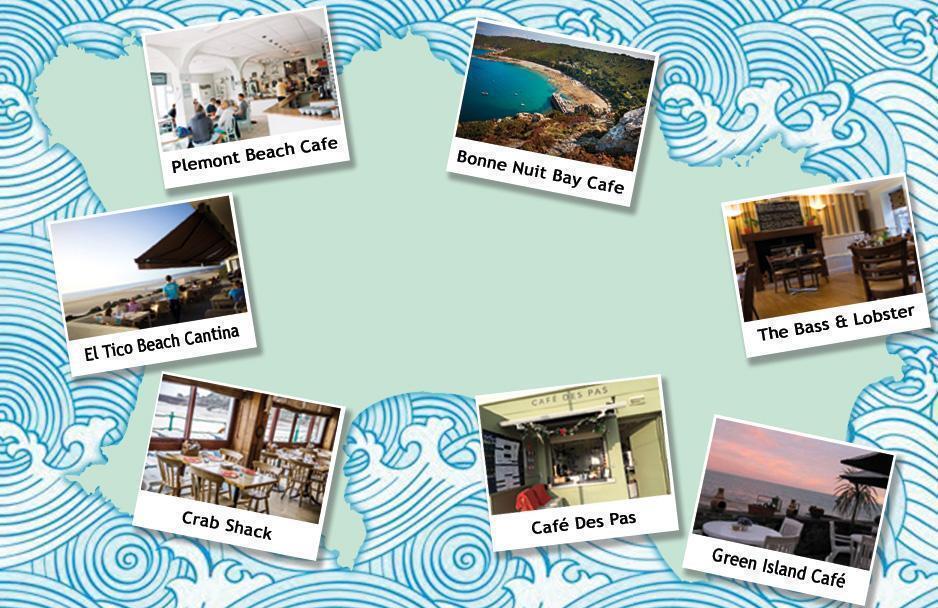 Locals' Favourites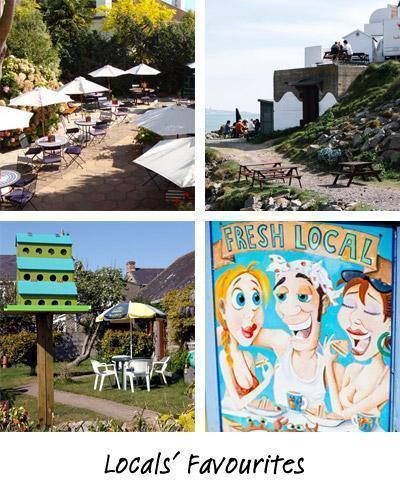 Faulkner Fisheries Summer BBQ
Fresh from the sea and stored live in the 'Le Vivier' within a WW2 bunker, you will find the fish and shellfish at Faulkner Fisheries. Summer months they will be firing up the BBQ and you can be served alfresco with spectacular views over the full sweep of St Ouen's Bay. Le Vivier is a real hidden gem that is easily missed. If you prefer to cook your own, pick up one of their pre-prepared Fruits de Mer to take back to your self-catering accommodation.
The Poplars Tearoom
'Up and baking since 1984', the Poplars Tearoom is renowned for great, simple home cooking. Open during the day, this is the place for freshly brewed coffee, tasty lunches and indulgent treats - all made on the premises by the friendly family team. The tearooms are close to the famous Corbiere Lighthouse and the island's south-west coast.
The Hungry Man
This is where hungry people go to eat. The Hungry Man may appear humble with its small shack, serving window and plastic tables & chairs, but looks can be deceiving. This popular island institution overlooks the tranquil Rozel Harbour and serves simple sandwiches, burgers, rolls and cakes extremely well. If you really want a challenge, look out for the Double-Decker Health Wrecker burger and the Hot Chocolate mountain.
Michelin-Starred Dining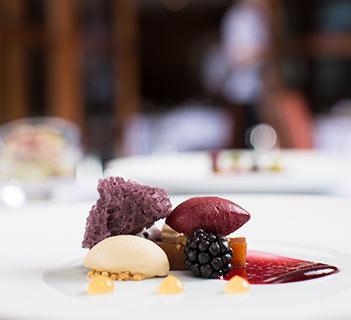 Bohemia
Bohemia Bar and Restaurant is located in The Club Hotel and Spa in St Helier and is considered by many critics either side of the Channel as a culinary must whilst in Jersey. One Michelin star and 5 AA Rosettes should not intimidate anyone. Bohemia offers a pleasantly relaxed, contemporary and sleek atmosphere. Diners can enjoy anything from a Rapid Lunch to a Prestige Dinner Menu, all the while experiencing food cooked to award-winning perfection. Bohemia has been described by The Daily Mail as 'One of the gastronomic experiences of your life' along with being listed as one of the top 1000 restaurants in the world in 2020 and making The Sunday Times Top 10 Restaurants!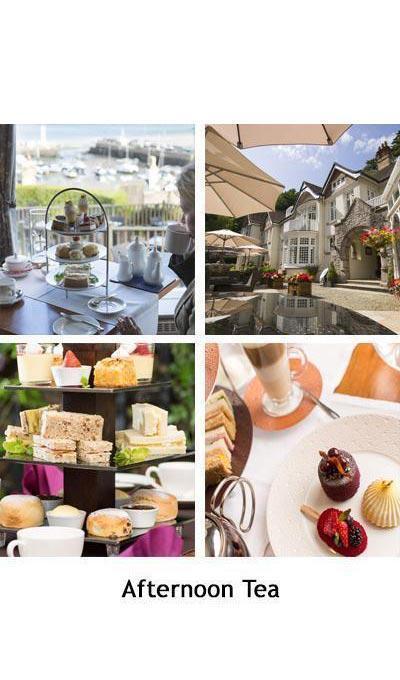 Afternoon Teas
Chateau La Chaire, Trinity
Chateau La Chaire offers guests a tempting opportunity to have one of Jersey's optimum afternoon teas in one of the most picturesque settings in the Channel Islands. Concealed amongst the trees of Rozel, you'll find an exquisitely preserved Victorian manor. Generously designed and professionally staffed, you couldn't ask for a more beautiful place to appreciate your 3 tiered stand of sandwiches and cakes.
Somerville, St. Brelade
St Aubin's Harbour might be one of Jersey's most picturesque spots. The Somerville Hotel sits proud above this 16th century harbour, boasting views over the attractive fishing village below and the expansive St. Aubin's Bay. Enjoy your indulgent afternoon tea and share the experience of this traditional English ritual.
The Savoy, St. Helier
If something a little more boutique is what you're searching for, look no further. The Savoy is a beautifully presented 4* Hotel situated in the heart of St Helier. This beautiful building, once an old Victorian house, has an inviting dining space. Enjoy the homemade sandwiches and cakes as they are brought to you in the sheltered conservatory-style dining room.
Bohemia, St. Helier
Bohemia has made a name for itself as one of Jersey's top restaurants and their afternoon tea certainly shows this. Reasonably priced and intricately presented, Bohemia offers you the charm of nostalgia with modern flavours. This afternoon tea has it all; visuals, flavours, smells and textures all served within a refined and subtle atmosphere.

Picnics
The Works, Gorey
This bakery, creamery and all round wondrous emporium of epicurean delights is an absolute must for any foodie. Not always local, but guaranteed to be an incredible gastronomic experience, The Works can provide its customers with the finest home baked breads, patisseries and pastries. From cheese and dairy products to preserves and pickles, you will not leave this beautifully presented shop empty handed.
Honesty Boxes, Island-wide
Through the small green lanes and agricultural areas of Jersey you will find what the locals refer to as "honesty boxes". These are traditionally small wooden structures which are home to the local produce of the Islands farmers. Filled with potatoes, strawberries, raspberries, gooseberries, black-currants or melons (depending on the season) and a small lock box, you are trusted to pay for what you take by the local producers. The stalls are generally left unattended and are designed as a sure sign of the Islands generous nature.

Relish Delicatessen, Halkett Street
Award winning delicatessen, Relish, was created in 2010 by owner Florian de Poray and has been delighting customers ever since. With ingredients sourced from around Europe, their cheeses, wines and charcuterie are provided to some of Jersey's finest restaurants. More than just a shop, this wonderful establishment gives you the opportunity to sit outside in the dappled shade of Olive trees, inside within the bustling deli itself or take things away for your picnic. Enjoy the artisan cheese, meat and seafood platters paired with new and exciting wines and champagnes.
Insider Knowledge
Project 52, St. Helier
This Orwellian-inspired drinking establishment is a new addition to the thoroughfares of St Helier and offers something fresh and innovative. Discreetly situated, boasting the slogan "Find us and you're in" this mysterious drinking house creates a welcome milieu for those on the hunt for something slightly more diverse than Jersey's usual 'pub-scene'. Hidden on Waterloo Lane, with no sign or publicity, lies this secret gem. With a light above the door, serving as the only indication that it is open-for-business, and a keypad buzzer for entry, this clandestine hostelry teases prospective drinkers with its furtive nature. If the light is on, push the buzzer and come on in, if the light is off, you'll have to come back another time, but well done for finding it. If you've successfully made your way inside don't think it's just drinks on the menu. Up for grabs is a literal smorgasbord of delicious sharing platters consisting of locally supplied cured meats and cheeses that can all be appreciated paired with either wine or numerous innovative cocktails.
Off The Rails, St. Brelade
A tasty little secret is waiting for you on the old Railway Walk in St. Brelade. What might just look like a typical café shack next to a children's park actually offers up some of the best pizza available in Jersey. There are several places in the Island where you can source pizza, but for the simplicity, quality and quirkiness you cannot beat this friendly little Italian haven.
Hectors, St. Helier
What you really need to try when on an Island, especially an Island in the British Isles, is fish and chips. Hectors has been a significant mainstay in Jersey for years now, and for good reason. Half traditional restaurant, half takeaway chippy; this is unapologetically simple food and the locals wouldn't have it any other way.
Bruno's Bakery, St. Helier
For the best cakes outside of France you'd be doing yourself a disservice if you didn't visit Bruno's Bakery. This traditional boulangerie has everything you could ever want, from tempting cream filled éclairs to visually stunning tarts and everything in-between. Bruno himself has been baking for nearly 25 years and was trained in Normandy, France. His love for all things bread is so readily apparent in his creations that you'll never be able to have just one. If you're lucky enough, and early enough, order the Choquettes, but you'll have to be fast as they usually sell out very soon after opening.

Something to Whet Your Whistle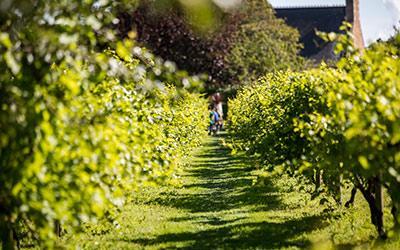 La Mare Wine Estate, St. Mary
La Mare Wine Estate gives visitors the opportunity not just to purchase locally created Wine, Spirits & Chocolates but also to learn about how they're created with a Tour & Tasting experience. You will be squired around the beautiful vineyards, orchards, the cognac style distillery and the chocolate production kitchen. A guide will be talking you through the production methods and offer guided tasting; including wines, Jersey Black Butter and luxurious chocolates. This experience is not to be missed!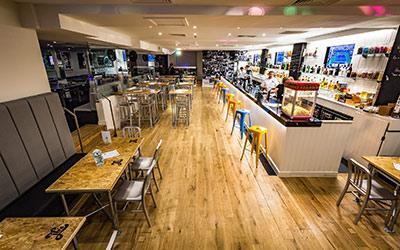 JB's Ping-Pong & Gastro Bar, St. Helier
What three things go better together than Ping-Pong, smoked meat and craft ale? That's right! Nothing. With a selection of over 50 ales either in bottles, cans or on tap and enough Ping-Pong tables to shake a Ping-Pong paddle at, your time will be more than occupied at this modern and spacious sports bar. And whilst wetting your whistle, if the hunger pangs do become a little too much for you, you'll be happy to know that one of the best burgers in Jersey is simply an order away. If ale and meat isn't your thing, one of JB's speciality ice-cream cocktails is sure to please.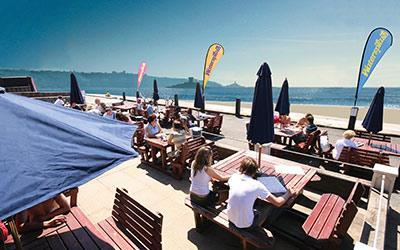 The Watersplash, St. Peter
In the modern day the words Artisan, Small-Batch and Craft can be bandied about to the extent that it might alienate some people. The Watersplash is far more traditional than all that. If you just want to sit by the sea, watch the sun set, smell the sea and feel the wind on your face whilst enjoying a nice cold pint, then this is the place for you. There is no pretence, no clever advertising, just a decent beachside bar where you can really get to grips with what Jersey is. You're faced with one of the most spectacular beaches on the Island and can just soak in the calming sound of the sea lapping at the shore.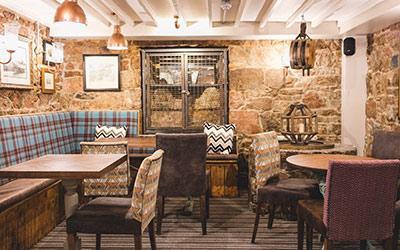 Westward Pub, The Old Court House, St. Brelade
Set in the beautiful St. Aubin's Harbour, the Old Court House features two bar areas and a restaurant. One of the bar areas is made from the original tender to the famous Westward Ship. Both bar areas have low-lit nooks and crannies in which you can hide away and enjoy your locally brewed ales. The outside decked area is incredibly popular during the summer months and is often full of sun-blushed families relishing the beautiful weather and location.