Jersey is renowned for its Jersey Royals and although these little oval gems are incredibly popular, there is much more to our island food culture.
Whether you are looking for a casual snack beside the beach or a Michelin star experience, Jersey has it covered. The freshest seafood, locally farmed produce and dairy from our famous Jersey cows provide an abundance of ingredients - all within 45 square miles.
There is so much choice it is difficult to know where to begin; so we have gathered a selection of our top recommendations!
Scroll to:
Casual Seaside Dining / Local's Favourites / Michelin-Starred Dining / Afternoon Teas
Picnics / Insider Knowledge / Wet Your Whistle
Casual Seaside Dining
Bonne Nuit Beach Café, St. John
With fresh fish being collected seconds from the café's front door, the newly owned Bonne Nuit Beach Café has made strides since its re-opening in 2015. Located in a beautiful and secluded bay, this relaxed restaurant is a beach café by day and an Asian food hotspot at night. If bring next to the beach isn't enough for you, then feel free to take the food away and eat it on the beach itself!
The Crab Shack, St Brelade
Enjoy an outside table and sea views of St. Brelade's bay; The Crab Shack is the perfect relaxed setting in which to enjoy local seafood, time-honoured favourites and daily specials. This is the place to relax in the sun during summer or in the warm interior during the winter.
El Tico Beach Cantina, St. Ouen
Located in one of the island's most stunning positions, El Tico Beach Cantina is the place to enjoy great local food and a glass of wine whilst watching the sun sink into the Atlantic Ocean. Food is described as "food for friends". It is real food that is big on flavour, freshness and quality.
The Bass & Lobster, Gorey
When you want something a bit special, look no further than The Bass & Lobster. You go to this restaurant for two things; local food and excellent service. With its namesake dishes constantly on the menu, you'll have your seafood needs satisfied whilst enjoying being located along a beautiful stretch of Gorey coastline.
Café des Pas, Harve Des Pas
Close to St. Helier town centre but with open seaside views, Café des Pas offers breakfast, light bites and lunch with excellent service, only a few steps off the beach. The café offers local and seasonal produce and supports local growers, including free range eggs, gluten free and vegetarian options.
Plemont Beach Cafe, St. Ouen
Cleverly situated at the top of the large staircase down to Plemont Bay, the beach café is a family run business that is popular with both locals and visitors, alike. The café prides itself on using genuine Jersey produce whenever possible. The views are stunning, the staff are friendly and the food is more than you would expect from a beach café!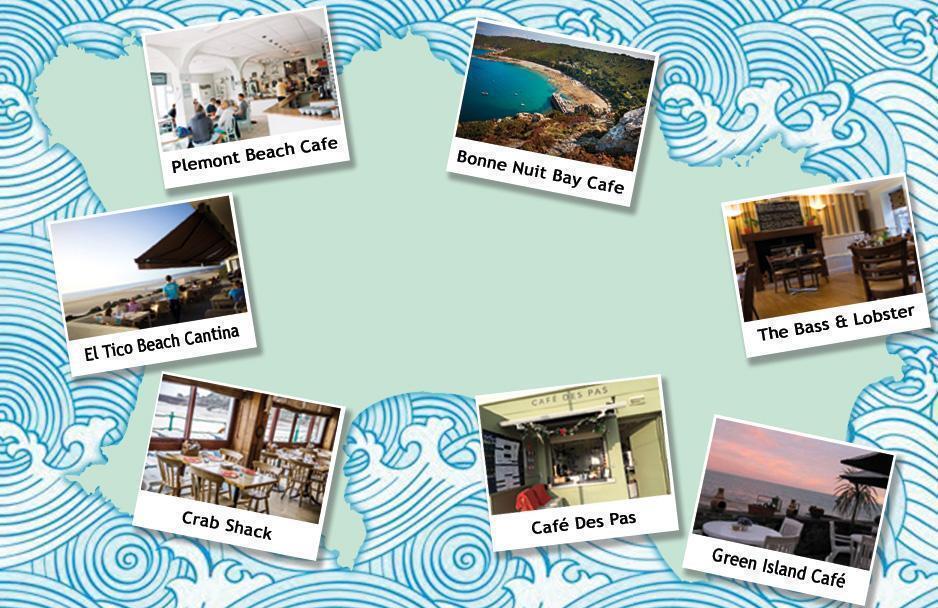 Locals' Favourites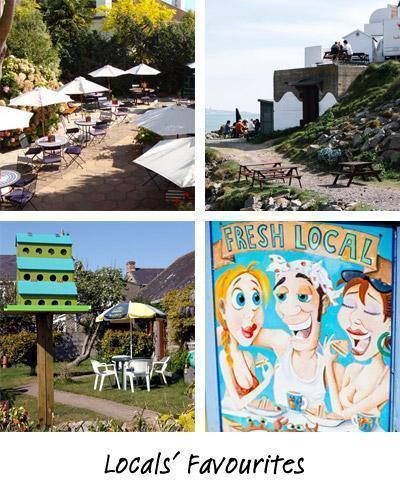 Old Bank House Hotel
Situated in the centre of the delightful Gorey Village on Jersey's east coast, the Old Bank House Hotel features a popular bar and tea room - perfect for a relaxing drink whilst out and about or for a tasty afternoon tea in the attractive hotel garden.
Faulkner Fisheries Summer BBQ
Fresh from the sea and stored live in the 'Le Vivier' within a WW2 bunker, the fish and shellfish is cooked on the BBQ and served alfresco with spectacular views over the full sweep of St Ouen's Bay. Le Vivier is a real hidden gem that is easily missed. If you prefer to cook your own, pick up one of their pre-prepared Fruits de Mer to take back to your self-catering accommodation.
The Poplars Tearoom
'Up and baking since 1984', the Poplars Tearoom is renowned for great, simple home cooking. Open during the day, this is the place for freshly brewed coffee, tasty lunches and indulgent treats - all made on the premises by the friendly family team. The tearooms are close to the famous Corbiere Lighthouse and the island's south-west coast.
The Hungry Man
This is where hungry people go to eat. The Hungry Man may appear humble with its small shack, serving window and plastic tables & chairs, but looks can be deceiving. This popular island institution overlooks the tranquil Rozel Harbour and serves simple sandwiches, burgers, rolls and cakes extremely well. If you really want a challenge, look out for the Double-Decker Health Wrecker burger and the Hot Chocolate mountain.
Michelin-Starred Dining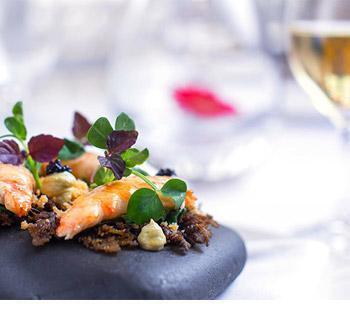 "With 3 Michelin Stars and a population of only 100,000, Jersey lays claim to being one of the most starred dining locations on the planet!"
Ocean Restaurant
Located in The Atlantic Hotel and overlooking the magnificent gardens and sweep of St Ouen's Bay, Ocean Restaurant is a must for lovers of fine dining. Executive Head Chef Mark Jordan and his team have held a Michelin star since 2007 and combined with 4 AA Rosettes, Ocean Restaurant is in the top echelon of restaurants in the British Isles.
Bohemia
Bohemia Bar and Restaurant is located in The Club Hotel and Spa in St Helier and is considered by many critics either side of the Channel as a culinary must whilst in Jersey. One Michelin star and 4 AA Rosettes should not intimidate anyone. Bohemia offers a pleasantly relaxed, contemporary and sleek atmosphere. Diners can enjoy anything from a Rapid Lunch to a Prestige Dinner Menu, all the while experiencing food cooked to award-winning perfection.
Ormer Restaurant
Ormer fully deserves it's accolades of a Michelin Star and 3 AA Rosettes. Situated in the centre of St Helier, the bespoke furniture, aged leather and silk wallpaper bring understated sophistication. Knowledgeable and dedicated staff ensure your experience is as elegant and refined as Shaun Rankin's cuisine.
Afternoon Teas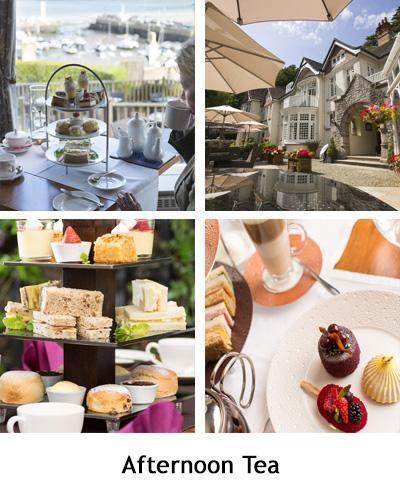 Chateau La Chaire, Trinity
Chateau La Chaire offers guests an appealing opportunity to have one of Jersey's finest afternoon teas in one of the most picturesque settings in the Channel Islands. Hidden amongst the trees of Rozel, a small fishing village in the north east, you'll find a beautifully maintained Victorian manor. Generously designed and professionally staffed, you couldn't ask for a more beautiful place to enjoy your 3 tiered stand of sandwiches and cakes.
Somerville, St. Brelade
St Aubin's Harbour might be one of Jersey's most picturesque spots. The Somerville Hotel sits proud above this 16th century harbour, boasting views over the attractive fishing village below and the expansive St. Aubin's Bay. Enjoy your indulgent afternoon tea, soaking in this magnificent view, and share the experience of this traditional English ritual.
The Savoy, St. Helier
If something a little more boutique is what you're searching for, look no further. The Savoy is a beautifully presented 4* Hotel situated in the heart of St Helier. This beautiful building, once an old Victorian house, has a warm and inviting dining space. Enjoy the delicious homemade sandwiches and cakes as they are brought to you in the attractive, sheltered conservatory-style dining room.
Bohemia, St. Helier
Bohemia has made a name for itself as one of Jersey's top restaurants and their afternoon tea is certainly something to behold. Reasonably priced and intricately presented, Bohemia offers you the charm of nostalgia with modern flavours which will always surprise and delight. This afternoon tea has it all; visuals, flavours, smells and textures all served within a refined and subtle atmosphere – You won't beat this!
Picnics
Insider Knowledge
Something to Wet Your Whistle