A Romantic Break
To Jersey

There is often something romantic about Island destinations, and Jersey is no exception. Once nicknamed 'Honeymoon Island' due to the large number of British newlyweds who flocked here during the 50s and 60s, modern day Jersey still offers lots of idyllic experiences for starry-eyed couples.
From walking hand in hand across deserted sands to a cosy dinner à deux, Jersey offers a wide range of restaurants from those rated with Michelin Star's, some with as many as 4 AA Rosettes or cute and cosy bistro's, there is something here to suit every couple.
We've put our heads together and created a sample itinerary for an intimate weekend break.
Friday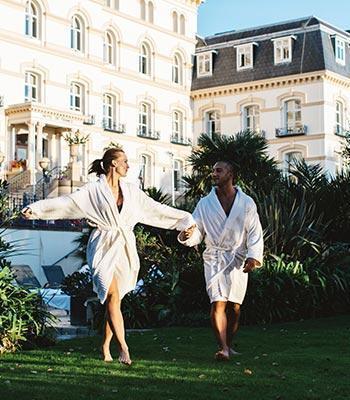 Bring The Romance to Jersey
Arrive in Jersey by air and be greeted by a pre-arranged private chauffeur ready to whisk you to your hotel in style. If you prefer to travel independently, hire a convertible instead and enjoy the fresh sea air as you take the longer scenic route to your hotel via one of Jersey's breath-taking beaches.
There is a wide choice of boutique and romantic accommodation in Jersey, from elegant and cosy country hotels such as Hotel La Place, Chateau La Chaire or Greenhills, to stylish and chic spots on the coast – L'Horizon Hotel and Grand Jersey are two of our favourites. For those that prefer a little solitude Jersey Heritage offer a number of unique and secluded self-catering properties around the Island, including one that lies within the walls of an offshore castle.
After check-in take some time to relax and recover from the journey. Most hotels can arrange to have chilled champagne or chocolates ready and waiting for you in your room on request. Feel free to just slip on the fluffy robe and slippers and stay in the room until the hunger pangs make you ready for dinner.
Once dinner is in order you've got plenty of choice available. Try El Tico Beach Cantina in St Ouen's Bay for good food, laid-back beach vibes and if conditions are right, one of the best sunsets found anywhere on earth.
Saturday
Start Saturday with a hearty breakfast at your hotel, or begin exploring early and venture out to eat. Sumas in Gorey serves an impressive weekend breakfast in elegant surroundings, or try Kismet Cabana at Ouaisne for internationally inspired brunch specials al fresco.

The rest of the day can be as lazy or as action packed as you desire, and we've put together 4 suggestions for romantic adventures on and around the Island that are sure to tickle your romantic fancy and put any couple in the mood for love.
Idea 1
Get to Mont Orgueil early to avoid the crowds and feel like King & Queen of your very own castle; climb almost 200 steps to the highest turrets and enjoy breath-taking views of the French coast.
Idea 2
Alternatively book a voyage with Jersey Seafaris and enjoy an exhilarating high-speed journey to a deserted off-shore sandbank surrounded by crystal clear waters and teeming with bird and marine life.
Idea 3
Animal lovers should head to Jersey Zoo where it's possible to pre-book a private animal encounter and get up close and personal with some of their most endearing residents, before taking a stroll through the attractive grounds and perhaps sharing a pot of tea and a delicious cake in Café Firefly.
Idea 4
For a more relaxed afternoon pick up a picnic lunch from one of several independent delis (we love Relish in St Helier) and head off the beaten track to a secluded bay or tranquil valley to enjoy picture perfect views and each other's company.
On Saturday evening it's time to dress to impress and head to St Helier for an intimate dinner date. Michelin starred dining is on offer at Bohemia restaurant, with other date-night favourites including Samphire, Banjo and The Anchor Club. For pre or post dinner cocktails in cosy surroundings head to the Blind Pig, Ce Soir or The Porters Store.
Sunday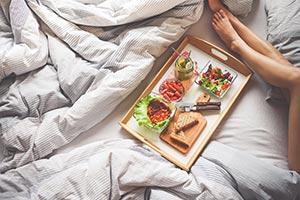 The Morning After...
After a late night, enjoy a lazy breakfast in bed, enjoying each others company before getting ready and setting off for a brisk cliff-path walk along the North Coast – this will certainly blow away the cobwebs whilst giving you magnificent views of the coastline and neighbouring Islands.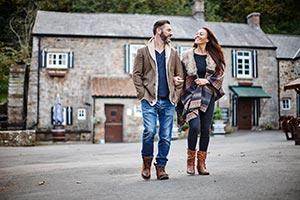 Country Pubs
Once you've walked up an appetite, stop off at one of the numerous olde-worlde country pubs, such as The Royal at St Martin, Smugglers Inn or Trinity Arms, for a traditional roast dinner, accompanied by a bottle of your favourite wine, and followed of course by a shared bowl of Jersey ice cream.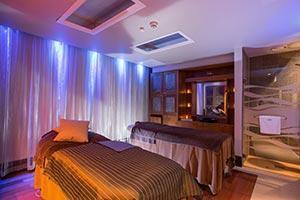 Soak in the Romance
As a busy weekend draws to an end, head to one of the Island's sumptuous spas for a couple of hours of pure relaxation. The Club Hotel & Spa, Royal Yacht Hotel and L'Horizon Beach Hotel all offer double treatment rooms where you can enjoy a massage side by side before reclining in the relaxation room or taking a well-earned dip in the warm and welcoming indoor pool.
Once balance has been re-stored, it's time to make the short journey back to the airport for your homeward flight, taking with you a wealth of sun-dappled memories that will last a lifetime, and a resolution to return soon.