Race across the beach only a few inches from the sand and with only the wind to propel you on your journey.
Blokarting
You may also like
Coasteering
Coasteering
Clamber across rocks, swim into caves, and discover an alternative perspective on Jersey!
Surfing
Surfing
Don't miss the chance to try one of the world's most exciting sports, on one of Europe's best surf beaches.
Stand Up Paddle Boarding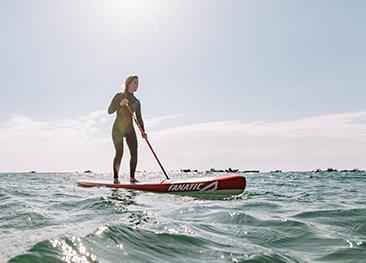 Stand Up Paddle Boarding
The fast-growing sport of stand up paddle boarding (SUP) is a fun, easy way to go play on the water.