Race across the beach only a few inches from the sand and with only the wind to propel you on your journey.
Blokarting
Speed along the sands in a blur, or gently cruise whilst admiring the sights of the bay, it's easy to do either!
About Blokarting in Jersey
Prepare for a thrilling ride across the wide expanse of St. Ouen's Bay, racing across the beach only a few inches from the sand and with only the wind to propel you on your journey.
Blokart landsailers are specifically designed for fast movement across flat surfaces, but also for safety and ease of use, making this sport ideal for the vast beauty of St. Ouen's beach at low tide. Enjoy the sights of the sea and sand dunes as you cruise steadily along, or challenge a group of friends to a race around the triangular course.
How To Book Blokarting In Jersey
Jersey Adventures
Tel: +44 (0)1534 873074
Website: Jersey Adventures
Email: john@jerseyadventures.com
Absolute Adventures
Tel: + 44 (0) 07829 881111
Email: info@absoluteadventures.je
Website: www.absoluteadventures.je
Jersey's leading adventure & activity centre located in the stunning St Brelade's Bay (voted 2nd best beach destination in the UK by Travellers Choice 2012, Trip Advisor).
Absolute Adventures is owned and run by a professional and experienced team who enjoy nothing more than to share their passion for the sea and adventure with locals and visitors.
No matter what your ability the Absolute Adventures team will offer you the kind of experience you'll remember for a long time to come. Imagine a tranquil day exploring the coast by kayak and coasteering. Or seeing the Island blasting down the beach on a blokart. Whatever experience you try, Chester and his qualified & experienced team always have your safety at the forefront of their minds.
Location

Expand map
You may also like
Coasteering
Coasteering
Clamber across rocks, swim into caves, and discover an alternative perspective on Jersey!
Surfing
Surfing
Don't miss the chance to try one of the world's most exciting sports, on one of Europe's best surf beaches.
Stand Up Paddle Boarding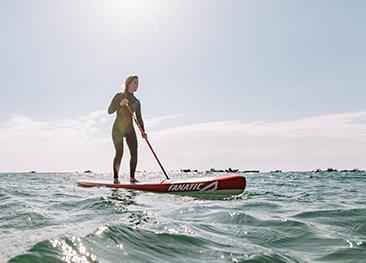 Stand Up Paddle Boarding
The fast-growing sport of stand up paddle boarding (SUP) is a fun, easy way to go play on the water.