About Cycling In Jersey
Jersey is a cyclist's paradise. Island-wide networks of cycle paths, coastal routes and green lanes provide an ideal environment to explore on two wheels.
Take in the sights and sounds of the sand, sea and countryside as you cycle around Jersey. Our unique network of green lanes give priority to cyclists and pedestrians, with speed limits kept to only 15 mph. Jersey's dedicated cycle routes carve their way through the island, ensuring that you always have a route to take.
How To Hire Bicycles In Jersey
Lakeys Bike Hire Jersey
23 Esplanade, St. Helier
Tel: 07829 881 889
Website: https://www.lakeys.co.uk
Email: hello@lakeys.co.uk
Lakeys bike hire is ideally positioned in walking distance of the ferry terminal and right opposite Liberation bus station, and they offer a range of styles and sizes of bike, along with the option of luggage storage allowing you to explore unencumbered. New for 2023 are twice weekly guided e-bike tours of Jersey's 'wild west'.
Jersey Bike Hire
The Railway Tunnel, Le Mont Les Vaux, St. Aubin JE3 8AF
Tel: 01534 746780
Website: https://www.jerseybikehire.co.uk
Jersey's premier bike hire company. They hire out a range of bikes, from Mountain Bikes, Kid's Bikes to the more traditional, easy to ride Touring Bikes for those just wanting to explore the Island's scenic green lanes.
Wild Adventures Jersey
Tel: Kazz direct on 07797 886 242
Email: kazz@wildadventuresjersey.com
Website: www.wildadventuresjersey.com
Cycling tours, bush craft experts, kayaking, rock climbing, abseiling. Booking essential.
Evie Bikes
Electric EvieBikes are available to hire all over the island. Read our EVieBike blog to find out more.
A network of well sign-posted routes has been created to help guide the way. Simply look out for the blue signs to point you in the right direction. Our top picks are below.
Jersey Cycling Guide
Top recommended routes - 'Easy'
Route 1A
Albert Pier to La Fregate Café
Length
0.5 miles (approx. 7 minutes)
About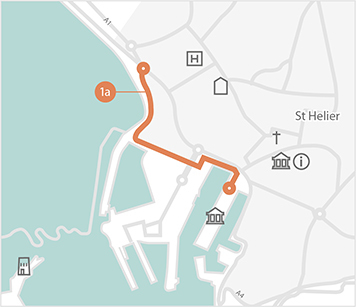 This short route is perfect for any cyclists who are more interested in enjoying Jersey's picturesque sea views at leisure, rather than getting an intense physical workout!
Setting off from the top of Albert Pier in St. Helier, you can admire the dozens of boats that fill St. Helier Harbour to your right before reaching the striking 'Golden Jubilee Needle' time capsule.
From here, you should bear left and head for the seafront, where you will reach the equally intriguing 'Freedom Tree' monument. Next, turn right and carry on along the Esplanade until you get to the small but charming Les Jardins de la Mer park, the centrepiece of which is an impressive fountain display.
Then, as a reward for completing your arduous (well, half-mile!) journey, you can treat yourself to lunch at the excellent La Fregate Café – find their menu here
What to look out for
Golden Jubiliee Needle - This 14.25-metre high memorial was erected in honour of the Queen's 50th year as monarch. Although the Jubilee itself was in 2002, the Needle (which contains a time capsule) was unveiled two years later, when Prince Charles visited the island.
The Freedom Tree – Another monument with a royal connection, the Freedom Tree was unveiled by the Queen in 2005. The bronze sculpture features 12 acorns, which each represent one of Jersey's parishes, and was commissioned to help mark the 60th anniversary of the Channel Islands' liberation from Nazi occupation in World War II.
Route 1B
Jersey Zoo to St. Martin
Length
2 miles (approx. 15 minutes)
About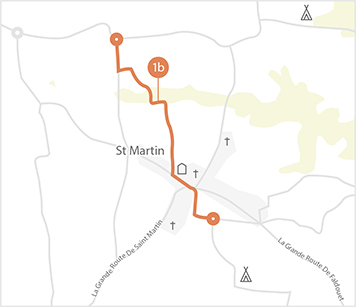 Jersey is perhaps most often visited because of the beauty of its coastline but, further inland, there is also scenic countryside to savour. This suggested route – which should only take around 15 minutes to complete – starts from outside Jersey Zoo, meaning that you can easily combine it with a day out at this fantastic wildlife attraction.
After setting off, you will enjoy a gentle and level ride down through some tranquil rural roads towards St. Martin's Village, where you can take time out to look around the peaceful parish church and surrounding area. Why not plan on having lunch or dinner at the excellent village pub, The Royal, whilst there?
What to look out for
Jersey Zoo - With a fascinating past and a range of species that goes far beyond most of its contemporaries, Jersey Zoo – established in 1959 - is proud to have been the world's first conservation-themed wildlife attraction. It still focuses on rare animals today, being home to a range of endangered mammals, amphibians, birds and reptiles.
St. Martin's Parish Church - The history of this attractive parish church can be traced all the way back to around 1,000 years ago, and it is just one example of the many beautifully-preserved places of worship that can be explored across the island.
Route 3A
Victoria Village to Jersey Zoo
Length
1 miles (approx. 15 minutes)
About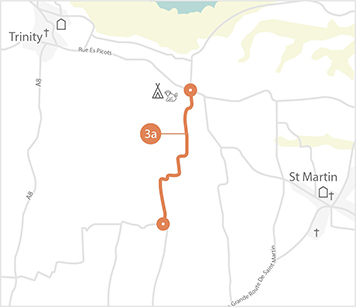 This route is only a mile long but gives you the chance to explore some of Jersey's deepest woodland at your own pace. Starting in a quiet residential area called Victoria Village (which is also where any fans of horticulture can find the excellent Eric Young Orchid Foundation), you will then make your way along some truly peaceful – and, at times, quite narrow! – country roads.
Depending on how leisurely you want your journey to be, you should be able to reach Jersey Zoo – where the route ends – in about 15 minutes, giving you plenty of time to get up close to the attraction's 1,400+ animals.
What to look out for
Eric Young Orchid Foundation - A great all-weather attraction, this hidden-away location is home to one of the world's largest and most impressive collections of orchids. A true paradise for any gardening enthusiasts, the Foundation is bound to impress even visitors who aren't particularly green-fingered.
Jersey Zoo - With a fascinating past and a range of species that goes far beyond most, Jersey Zoo is proud to have been the world's first conservation-themed wildlife attraction. It still focuses on rare animals today, hosting a range of endangered mammals, amphibians, birds and reptiles.
Route 5
Vallee des Vaux to Liberation Square, St. Helier
Length
2.8 miles (approx. 30 minutes)
About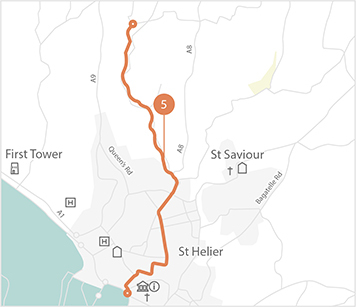 This route will give you the opportunity both to explore Jersey's beautiful countryside and ride right into the centre of its busiest, most vibrant spot in just half an hour. When you set off from your starting point in the idyllic valley known as La Vallee des Vaux, you may find it hard to believe that the largest settlement in the Channel Islands, St. Helier, is less than three miles away – but then again, as you will soon find out, Jersey's effortless combination of tranquillity and excitement is one of its best features!
Something that makes cycling this route (among others) even more enjoyable than similar rides you may be familiar with in mainland Britain is the fact that the winding road which cuts through La Vallee des Vaux has a speed limit of just 15 mph. This means that drivers are obliged to take it slowly and respect the many cyclists who use the road regularly; be aware, however, that you may also have to watch out for horses when you're making your way towards St. Helier, as the valley is very popular with riders.
What to look out for
Liberation Square - One of St. Helier's most attractive and historically significant sites, Liberation Square may only have been created in 1995, but the events that have taken place on this spot rank as some of the most important in Jersey's history – it was both where the Nazis had their headquarters during the occupation of World War II and where the British flag was unfurled in 1945 to mark the end of that terrible period.
Central Market - Visiting a market may not seem like the most exciting thing you could do during your holiday, but St. Helier's Central Market is truly something special. Proudly serving the community for over 200 years, it today remains arguably the best place on the island to source an amazing range of fresh, local produce and has a fantastic, traditional atmosphere.
Route 7
Victoria Village to St. Helier
Length
2 miles (approx. 15 minutes)
About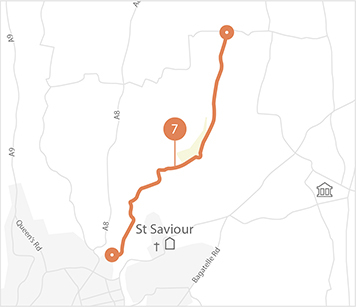 Cycling from the Victoria Village area to St. Helier will allow you to see several different aspects of Jersey's beautiful landscape within 15 minutes or so.
Starting in narrow, blissfully quiet country lanes, you will soon pass by the Grands Vaux Reservoir, which is a great example of how some manmade projects can add to the beauty of places like Jersey, whilst also fulfilling a practical need (in this case, storing and supplying water to the island's residents).
Just a few minutes later, you will arrive in the busy capital, St. Helier, which will feel a million miles away from the countryside you have just cycled through.
What to look out for
Eric Young Orchid Foundation - A great all-weather attraction, this hidden-away location is home to one of the world's largest and most impressive collections of orchids. A true paradise for any gardening enthusiasts, the Foundation is bound to impress even visitors who aren't particularly green-fingered.
Grands Vaux Reservoir - Created in 1952, the Grands Vaux Reservoir was the first major project completed post-World War II by the infrastructure company now known as Jersey Water. A favourite spot for members of the Jersey Freshwater Angling Association, the reservoir contains rainbow and brown trout, as well as two species of eel.
Top recommended routes - 'Moderate'
Route 2
Waterworks Valley
Length
2 miles (approx. 30 minutes)
About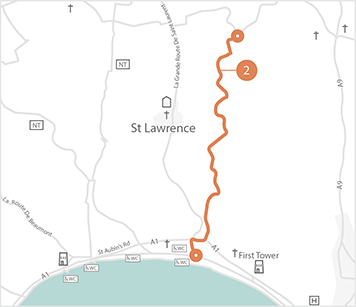 'Waterworks Valley' is the name given to one of the most beautiful areas of the island, which benefits from a combination of natural woodland, manmade reservoirs, peaceful streams and diverse wildlife.
The two-mile cycle around this area in the parish of St. Lawrence will allow you to explore several of Jersey's most tranquil and scenic spots, including the Millbrook and Dannemarche reservoirs. Despite its relaxing nature, however, you should be careful to keep your wits about you whilst cycling through Waterworks Valley – local legend has it that the area is haunted by a bridal procession made up of a coach, six horses, footmen and the ghostly bride herself!
What to look out for
St. Lawrence Millennium Stone - To mark the start of the new millennium, the year 2000 saw 12 'millennium stones' (one for each parish) placed around Jersey. The Waterworks Valley cycle route will take you past the St. Lawrence standing stone, which can be found close to the ruins of the Vicart Mill building.
Millbrook Reservoir - This reservoir may be the smallest of the six that are dotted around Jersey, but it is also the oldest, having been created back in 1890. A popular spot with anglers, the reservoir hosts a wide range of fish, including bream, tench, eels, carp, perch and trout.
Route 4
St. Aubin's Bay to Saint John
Length
5 miles (approx. 1 hour 15 minutes)
About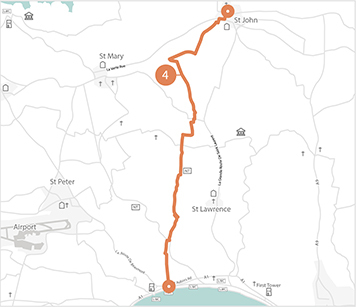 This is one of the longest moderate difficulty routes you can take in Jersey and cycling it will give you the chance to see several of the island's most interesting landmarks in one journey. If you think you can handle a five-mile ride (with an estimated total time of an hour-and-a-quarter), the trip from St. Aubin's Bay to the parish of St. John will be well worth the effort.
Some of the many highlights you can look forward to passing (or even stopping off at) along this picturesque route – most of which winds through the idyllic Green Lanes of the Jersey countryside – include the magnificent Tesson Mill, the fascinating Jersey War Tunnels, and Morel Farm, a beautiful spot that looks like it has been frozen in time.
What to look out for
Tesson Mill - Found at the edge of the stunning St. Peter's Valley, Tesson Mill (or 'Le Moulin de Tesson') offers a fascinating insight into Jersey's rich industrial past. The former flour mill fell into disrepair in the post-war years but was restored to its former glory in the 1990s; today, visitors can explore features such as the water wheel, grinding room and steam engine room (open Mondays and Tuesdays between May and September).
Jersey War Tunnels - The most unique and immersive WWII attraction you are likely to find in Britain, this 1,000-metre network of tunnels was built 50 metres underground by 5,000 slave labourers during the island's Nazi occupation. Not only have the tunnels been preserved but they can now be viewed alongside an informative museum and even (if you have the time) a brilliant escape room game!
Whilst the above routes would be perfect for any visitors who count themselves as occasional or casual cyclists, there are also several circuits throughout Jersey which have been designed specifically for the benefit of advanced, expert riders who are prepared to push themselves to the limit. You can read more about two of our favourite difficult routes below.
Top recommended routes - 'Difficult'
Route East A
Victoria Village to Victoria Village (Circular)
Length
19.7 miles (approx. 1 hour 15 minutes)
About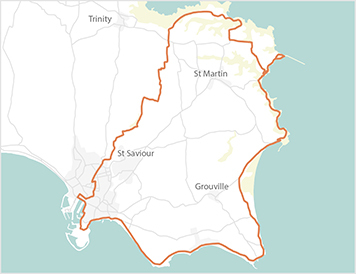 The longest advanced route in Jersey, this journey allows you to traverse the entire eastern coast of the island, as well as some of its most scenic inland areas. A circular route starting and finishing in Victoria Village, it is perfect for those who enjoy challenging climbs – there are seven to negotiate in total!
For the seasoned cyclist who enjoys exploring new places, this route really does have it all: from the golden sands of the beaches in the south of the island to the rugged cliffs of the north and historic landmarks such as Mount Orgueil Castle, this is one ride that is guaranteed to be exhilarating, varied and truly memorable.
What to look out for
Mont Orgueil Castle - Widely considered to be one of the finest remaining medieval castles in the world, Mount Orgueil has overlooked the village of Gorey for around 800 years. Along with incredible sea views that extend to the French coast, there are many unique highlights to discover on a visit here, such as the macabre 'Dance of Death' statue and the intriguing 'Wheel of Urine'!
Jersey Zoo - With a fascinating past and a range of species that goes far beyond most, Jersey Zoo is proud to have been the world's first conservation-themed wildlife attraction. It still focuses on rare animals today, hosting a range of endangered mammals, amphibians, birds and reptiles.
Route West B
St. Aubin's Bay to St. Aubin's Bay (Circular)
Length
13.75 miles (approx. 55 minutes)
About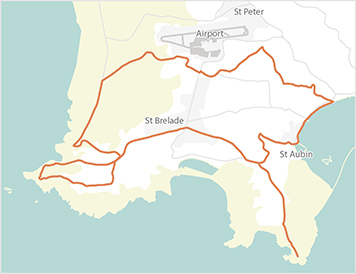 Certainly not one for the fainthearted, part of this hilly, circular route is included in the cycling section of the Jersey Triathlon course. Although it will most definitely be a challenge to complete, taking on this route (which sets off from and finishes at St. Aubin's Bay) will treat you to some of the best views it is possible to enjoy on the island.
Highlights include ascending the extremely steep and winding Ghost Hill, admiring the sea views as you head downhill towards the historic lighthouse at La Corbière (which can be reached via a causeway at low tide), and taking in the wild, rugged Noirmont headland.
What to look out for
Corbière Lighthouse - The first structure of its kind in Britain to be built from concrete, the lighthouse at La Corbière was first lit in 1874 and is still in operation today. The lighthouse itself and the rocky tidal island on which it sits are well worth seeing up close if you get the chance.
Elizabeth Castle - Another popular Jersey attraction that can be walked to via a causeway when the tide is low enough is Elizabeth Castle, which is in St. Aubin's Bay, a short distance off the coast of St. Helier. Seeing the 16th-century structure from the mainland will be a memorable part of your cycling trip but, if you get the opportunity, you should be sure to spend a whole day exploring this fantastic site, which is fully open to the public as a museum.
Route North A
St. John's Village to St. John's Village (Circular)
Length
13 miles (approx. 50 minutes)
About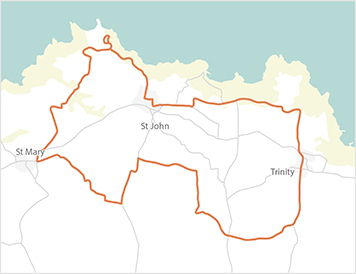 This route will let you explore the entire northern half of the centre of Jersey which, like much of the island, is made up of an enchanting combination of peaceful countryside and stunning, wild coastline. Although it only includes two climbs, this 13-mile circular journey is still a challenge and will introduce riders to some of the most popular cycling spots on the island.
As well as the lovely Bonne Nuit Bay and the idyllic roads around the La Mare Wine Estate - where both rural scenery and expansive sea views can be enjoyed – another highlight is making your way around the twisting Ronez Loop Road near Ronez Point. The fact that this road is occasionally closed to be used as a karting race track should give you a good idea of how much fun cycling around it will be!
What to look out for
La Mare Wine Estate - Although you should always avoid combining cycling with drinking alcohol, there are many other things that make stopping off at the La Mare Wine Estate in the parish of Saint Mary worthwhile. You can take a walk around the vineyard and cider orchards, find out how their wine is made on a guided tour, or even meet the estate's adorable miniature ponies!
Island Centre Stone - In the parish of St. John, you will find a prehistoric stone that is thought to have marked the point which islanders believed was the exact centre of Jersey. Although the location of the stone is, in fact, quite far from the island's geographic centre, it is still interesting to see it up-close and study the cup marks which helped historians to estimate its date of origin.
Important Information
Check your bike before cycling. Are the brakes in working order? is the saddle the correct height? Is a bell fitted and working? Is there a bicycle lock?
If you are going to cycle at night, are the lights working?
You must obey the Road Traffic Law at all times. Concentrate, try to anticipate what is going to happen ahead of you and think safety. Do not take risks.
Do not jump red lights.
Stop at yellow lines.
Do not ride on pavements.
Children must wear a helmet and adults are advised to wear one.
Keep to speed limits, particularly on cycle tracks which are used by walkers.
Do not cycle on the beach, particularly if you have hired a bike. The sea and sand can damage your bicycle and you will lose your deposit if you do not comply.
Always lock your bike (or lose it!)
Where possible use cycle parking.
When overtaking another cyclist always ring your bell, check behind you and signal.
If you have a mechanical problem, pull clear of the traffic before attending to it.
Always signal your intentions well in advance of turning, overtaking, slowing down or stopping.