Book Now for 2022!

With a trend towards holidays closer to home and rediscovering our own wonderful British Isles, we're expecting a boom year for Jersey in 2022! Get in early and book now with a low deposit to take advantage of early booking offers, low flight prices and the best pick of availability.
Little Island, Big Deals for 2022
Available routes and accommodation options are being updated regularly.
Prices will increase with demand, book early with a low deposit to secure the best deal.
EASTER GETAWAY
Resort style hotel with 3 restaurants, evening entertainment and the refreshing aquadome. Family rooms available.
4 nights, 13th April 2022, Bed & Breakfast. Based on 2 adults and 2 children sharing a Family Room.
FlightGatwick £279 Liverpool £309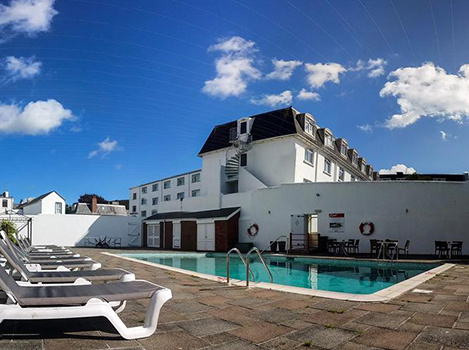 SUMMER IN ST. HELIER
A wonderful 2 star family-run hotel offering great value for money and unbeatable personal service.
7 nights, 4th June 2022, Bed & Breakfast. Based on 2 adults sharing a standard room.
FlightLiverpool £439 Belfast £459
COUNTRY ESCAPE
Greenhills Country House Hotel
4 stars
A cosy and elegant 4 star hotel, surrounded by Jersey's finest countryside and offering unbeatable professional service.
4 nights, 15th May 2022, Bed & Breakfast. Based on 2 adults sharing a standard room.
FlightLuton £399 Manchester £399
* All prices are per person and correct as of 1st November 2021. Prices include cabin baggage, hold baggage can be added at a supplement. All accommodation is bed and breakfast. Other dates and airports available, prices will vary.
Offers and terms vary across properties, search online or call our team for live availability and terms.
Great Things To Do...
Restore your balance in Jersey and experience the great outdoors. Here are some of our recommendations.