Fantastic Offers direct from Poole and Bournemouth

Travelling to Jersey by Sea
With sailings all year, including daily sailings in the summer, ferry travel to Jersey offers fantastic value and the chance to experience an independent and flexible holiday with the option of also taking your own car. Fast ferries depart from Poole Harbour, reaching Jersey in less than four and a half hours. Take advantage of the large outdoor deck, spacious passenger lounges and, of course, a chance to shop duty-free. Overnight ferries are also available from Portsmouth.
Dogs are also welcome on Condor Ferries so you can bring the whole family. Find out more details on behalf of your canine counterpart here

Travelling to Jersey by Air
Travelling to Jersey from Bournemouth is quick and easy with Loganair offering direct flights from Bournemouth Airport. New for 2019, flights run on Mondays, Fridays and Saturdays starting 3rd May until 30th September. Flights fly by taking only 45 minutes before you arrive in our beautiful island ready to enjoy your holiday.
There are regular flights departing from up to 25 regional UK airports including Southampton, Exeter and Gatwick.

Unmissable offers from Poole & Bournemouth
FREE NIGHTS & FREE DINNERS*
PRICE MATCH GUARANTEE
If you find any of the same holidays for less, we'll beat it by £10! View more information about our Price Match Guarantee.
Prices will increase with demand, book early to get the best deal.
SOMETHING FOR EVERYONE
Resort style hotel with 3 restaurants, evening entertainment and the refreshing aquadome.
4 nights, 6th May, Bed & Breakfast
Flight from £269
Ferry from £214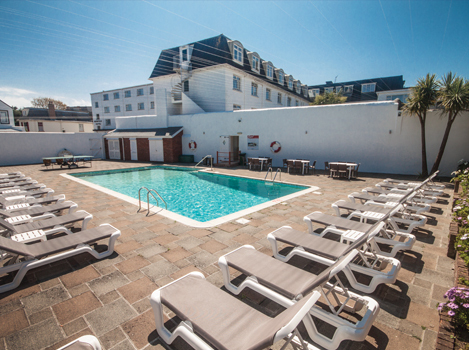 TOP SELLER
A wonderful 2 star family-run hotel offering great value for money and unbeatable personal service.
7 nights, 1st June 2019, Bed & Breakfast
Flight from £425
Ferry from £446
A PEACEFUL COUNTRY HAVEN
A luxury hotel situated in the heart of Jersey's breathtakingly beautiful countryside.
4 nights, 13th May 2019, Bed & Breakfast
Flight from £405
Ferry from £374
PERFECT FOR BEACH OR COUNTRY
Beachcombers Hotel
3 stars
A refurbished boutique hotel in a rural location yet close to the beach and a short drive from Gorey
4 nights 10th June 2019, Bed & Breakfast
Flight from £399
Ferry from £387
All prices are per person based on 2 sharing, correct as at 9th April 2019. Sea departures from Poole Harbour include the cost of bringing a standard car. Air departures direct from Bournemouth including hold baggage. Other ports and airports are available, prices will vary.
For live prices please search our website or call the reservations team direct on 01534 496 657.
About JerseyTravel.com
JerseyTravel.com is the place to discover Jersey, find your ideal place to stay, and book your dream island break. We offer an unbeatable selection of holiday packages throughout the year, including a range of exclusive unique holiday experiences from spa breaks to heritage holidays. Our team is on-island and has the very best knowledge of all things Jersey, from the perfect hotel for your needs to the restaurant that hits all the right notes.
Jersey: The Island Break
Relax... Revitalise... Reconnect...
Life is so busy sometimes we forget to think about how we feel.
To slow down for a moment and allow ourselves to relax, revitalise and reconnect.
In Jersey 'Island life' is the perfect tonic to the stress of daily life. A restorative experience that leaves you ready to dive back in.
Join the conversation #theislandbreak
Great Things To Do
Jersey offers a wealth of activities, attractions and events throughout the year. View all things to do in Jersey. Here are some of our top picks.
Jersey Zoo
Jersey Zoo
Founded in 1959, the Trust is now an international charity and conservation body headquartered in Jersey.
Walking
Walking
Jersey's variety of terrains, beaches and paths makes the island a walking paradise.
Jersey Museum
Jersey Museum
Jersey Museum presents the history of the Island from 250,000 years ago when the first people arrived.