Fantastic Offers direct from Poole

Travelling to Jersey by Sea
With sailings throughout 2021, including daily sailings in the summer, ferry travel to Jersey offers fantastic value and the chance to experience an independent and flexible holiday with the option of also taking your own car. Fast ferries depart from Poole Harbour, reaching Jersey in less than four and a half hours. Take advantage of the large outdoor deck, spacious passenger lounges and, of course, a chance to shop duty-free. Overnight ferries are also available from Portsmouth.
Dogs are also welcome on Condor Ferries so you can bring the whole family. Find out more details on behalf of your canine counterpart here
Find out more about ferry travel to Jersey.
Little Island, Big Deals from Poole
FERRY PRICE FREEZE – BOOK 2021 AT 2020 PRICES
PRICE MATCH GUARANTEE
Search and book online for ferry holidays up to 31st October 2021. If you find any of the same holidays for less, we'll beat it by £10! View more information about our Price Match Guarantee.
Prices will increase with demand, book early to get the best deal.
SOMETHING FOR THE WHOLE FAMILY
Resort style hotel with 3 restaurants, evening entertainment and the refreshing aquadome. Family rooms available.
4 nights, 16th September 2021, Bed & Breakfast. Based on 2 adults. Save total of £114!
TOP SELLER
Radisson Blu Waterfront Hotel
4 stars
Located in a prime location on St Helier's waterfront and offering easy access to the town centre and St. Aubin's Bay.
4 nights, 27th September 2021, Bed & Breakfast. Based on 2 adults sharing. Save total of £170!
FAMILY FAVOURITE
Westhill Country Hotel
3 stars
Nestled between St. Helier and the countryside, this fantastic setting provides guests with every opportunity to relax, unwind and appreciate Jersey's natural beauty.
7 nights, 23rd August 2021, Bed & Breakfast. Based on 2 adults. Save total of £150!
All prices are per person travelling as foot passengers, correct as at 13th May 2021.
For live prices please search our website up to 31st October 2021 or call the Customer Services team direct on 01534 496 650.
About JerseyTravel.com
JerseyTravel.com is the place to discover Jersey, find your ideal place to stay, and book your dream island break. We offer an unbeatable selection of holiday packages throughout the year, including a range of exclusive unique holiday experiences from spa breaks to heritage holidays. Our team is on-island and has the very best knowledge of all things Jersey, from the perfect hotel for your needs to the restaurant that hits all the right notes.
Jersey: Little Island. Big Personality
Only 45 square miles, little Jersey packs a big punch.
A British island yet uniquely original with our own language, our own pound notes, our own laws and our own Jersey Royals! But still no passport required…
Come and enjoy island life in 2021, befriend our locals, discover our heritage and explore our amazing scenery.
Join the conversation #theislandbreak
Jersey Inspiration
Being based in Jersey, we are passionate about our home and endeavour to introduce the very best of everything it offers in the easiest way. Here are a few motivating reads taken from our blogs.
How to Prepare for a Self-Catering Holiday in Jersey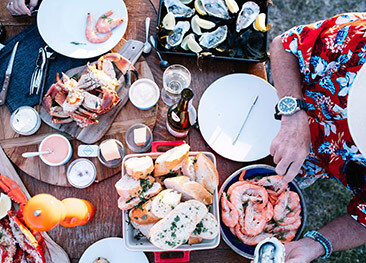 How to Prepare for a Self-Catering Holiday in Jersey
Self-catering holidays offer you the freedom you might not always get with other accommodation.
View