Jersey Holiday Early Booking Offers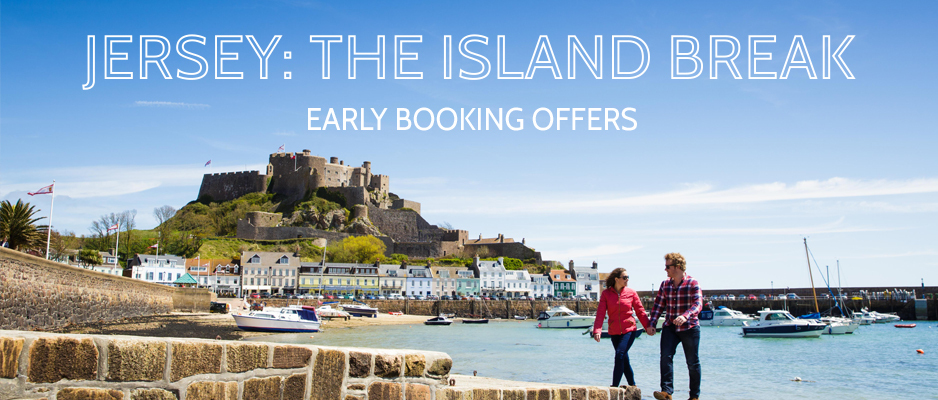 About JerseyTravel.com
JerseyTravel.com is the place to discover Jersey, find your ideal place to stay, and book your dream island break. We offer an unbeatable selection of holiday packages throughout the year, including a range of exclusive unique holiday experiences from spa breaks to heritage holidays. Our team is on-island and has the very best knowledge of all things Jersey, from the perfect hotel for your needs to the restaurant that hits all the right notes.
Jersey: Reconnect and revitalise in the fresh sea air.
Let our local experts create your island break.
Jersey is a place that can't be boiled down to a single experience - it's not a city break, or a country break, or a beach break. Jersey is all those things and more. The unique island offers the perfect mix of French and British. Close to home but miles away, Jersey has the same British pound - with their own £1 note, the same English language - with a Jerriais twang, and no passport required - only photo ID.
The only question now is, how will you spend your island time?
Travelling to Jersey
Experience sea, sand and a short flight time because never being more than 10 minutes from a beach isn't Jersey's only convenience...
Book your Jersey Holiday by air or sea from over 25 UK locations. Flights operate all year from large international hubs such as London Gatwick, Manchester, Glasgow and Birmingham, as well as smaller airports including Liverpool, Southampton, Cardiff, Bristol, London City, Edinburgh and Exeter in as little as 45 minutes flying time.
During the summer months regular flights are in operation from a handy selection of regional airports, offering convenient travel for customers living near London Stansted, Durham Tees Valley, Humberside, Doncaster, Belfast, Inverness and Aberdeen.
Unmissable offers from JerseyTravel.com
We want to add some sizzle to your holiday. We bring you a handful of exclusive offers selected from our top sellers with a little extra added on (or taken off!) to get you hot under the collar. From free nights to free dinners, we have something to add a little glow this summer.
In addition to our early booking offers, our selection of year round deals can be found at Special Offers & Last Minute Deals and our Unique Jersey Experiences offer exclusive packages from Explorer and Spa Packages to our 2 Island Holiday including both Jersey & Guernsey.
PRICE MATCH GUARANTEE
If you find any of the same holidays for less, we'll beat it by £10! View more information about our Price Match Guarantee.
All prices are per person based on 2 guests sharing a standard room on a bed and breakfast basis (unless half board is stated), on the date shown and are correct as of 13.12.18. Other departure dates are available and prices will vary. Air prices are based on departures from London Gatwick and include cabin baggage (checked-in hold luggage can be added during the booking process). Sea prices are based on departures from Poole as foot passengers. Other air departure points are available and sea departures are also available from Guernsey and Portsmouth, prices will vary. Car ferry prices for sea travel are also available.
Great Things To Do
Jersey offers a wealth of activities, attractions and events throughout the year. View all things to do in Jersey. Here are some of our top picks.
Jersey Zoo
Jersey Zoo
Founded in 1959, the Trust is now an international charity and conservation body headquartered in Jersey.
Walking
Walking
Jersey's variety of terrains, beaches and paths makes the island a walking paradise.
Jersey Kayak Adventures
Jersey Kayak Adventues Organised Tours
Discover sea kayaking. Experience the beauty and tranquility of a sea kayak tour around Jersey's stunning coastline.