It's a dog's life.
A pedigree break by sea for you and your best friend.
At JerseyTravel.com we want to make it easy for you to bring your whole family on holiday with Condor Ferries. We can recommend the best island package for you and your four legged friend. Plus we can offer top tips for travelling together and making the most of your island break.
Jersey offers the perfect break for your canine counterpart, being very dog-friendly with open spaces, sea swims and cliff walks. Also, many pubs and cafes offer bowls of water and dog treats to keep everyone well fuelled for their holiday adventures. Aside from the outdoor activities there are some very welcoming accommodations for you to all stay together in comfort.
So pack that doggie bag and let us do the rest.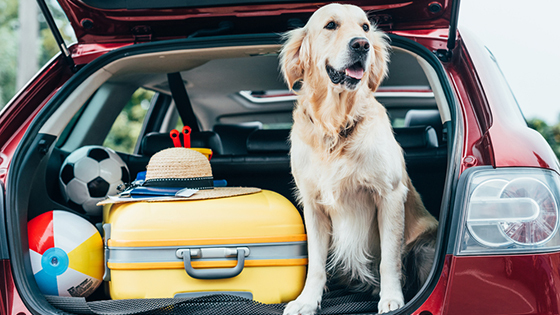 Travelling with your car
Working with Condor Ferries, from the UK to Jersey, we ensure that you have a pawsome and hassle-free ferry crossing.
Firstly, when you bring your dog to Jersey there is no need for a dog passport, you just need your own valid photographic ID. Should your dog be travelling in your vehicle there is no additional charge for your four legged friend.
If you're travelling by car with your dog, they must stay in your car during the sailing. You are asked to ensure you leave windows slightly open and leave some water for your dog. Visits can be made to the car deck during the sailing when safe and you will need to be accompanied by a crew member.
Travelling as a foot passenger
When you travel as a foot passenger with your dog, they must travel in an RSPCA approved carrier. Pets aren't allowed in the passenger lounges however your family friend will be well looked after and will travel in a dedicated pet area on the car deck. In this instance there is a £10 charge each way for your pet.
Top Recommended Dog Friendly Jersey Accommodation
More dog friendly accommodation in Jersey
Life's a Beach
With miles of golden sands for frolicking on and clear waters for splashing in, Jersey beaches are a dog's dream. Our beaches are very dog friendly and to ensure everyone enjoys their time on the beach to the max there are certain rules to follow:
Take the lead
Between 1st October and 30th April, dogs can be exercised on the beach at any time and you do not need to use a lead. Between 1st May and 30th September, dogs must be kept on a lead between 10:30 and 18:00 on all beaches.
Wildlife
Dog owners should always prevent their dog from chasing or disturbing wildlife.
Taking care of beaches, parks and paths
If you are a dog owner, pick up after your dog! Please tie the top of the bag. Take the waste home, or put it in a public litter bin. Fines of up to £500 are in place.
Banned breeds
Please note the following dogs are banned in Jersey: the Dogo Argentino, the Fila Braziliera, the Japanese Tosa (or Tosa) and the Pit Bull Terrier.