Jersey Holidays from Inverness
Fly direct to Jersey from Inverness Airport and begin your holiday with hassle-free travel from your local friendly airport.
Inverness Airport is located at the gateway to the Highlands and Islands, only 20 minutes from the centre of Inverness and ideally placed for those living in the wider Highlands area.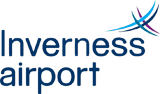 Approximate flight time to Jersey:
2 hours 10 minutes

Direct flights every Saturday
1 Jun - 31 Aug 19
Public Transport Links
Trains
Inverness train station is only a 15 minute taxi ride from the airport.
Buses & Coaches
Stagecoach operates the Jet Bus Service to Inverness Airport with up to a 30 minute service between the City of Inverness and the Airport and an hourly service from the Airport to Nairn, Forres and Elgin.
Airport Facilities
Shops, bars and restaurants
There are bars, newsagents, shops and cafés on landside and airside.
Internet Access
WiFi Internet access and Internet pay stations are available throughout the airport.
Accessibility
Those requiring assistance are encouraged to contact the airport before travelling.
Airport Parking
The airport's short stay car park is directly outside the terminal building, with a long stay car park to the right of the building. Cars parked in the long stay car park will be charged at £10 per day for the first three days, followed by a charge of £6 per day.
Recommended Accommodation

Expand map
Address
Inverness Airport, Inverness, Scotland, IV2 7JB
Time to Jersey
Flight time - 2 hours 10 minutes
Check-In
Passengers should check in 2 hours before their scheduled flight time.