Jersey Holidays Direct from Aberdeen Airport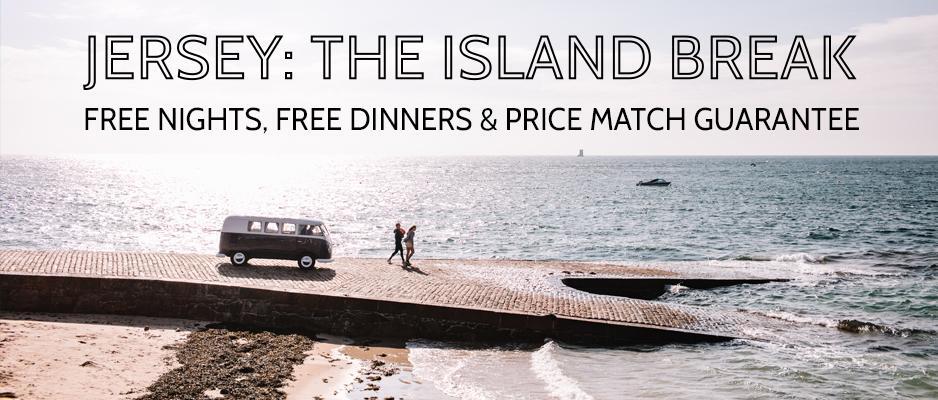 About JerseyTravel.com
JerseyTravel.com is the place to discover Jersey, find your ideal place to stay, and book your dream island break. We offer an unbeatable selection of holiday packages throughout the year, including a range of exclusive unique holiday experiences from spa breaks to heritage holidays. Our team is on-island and has the very best knowledge of all things Jersey, from the perfect hotel for your needs to the restaurant that hits all the right notes.
Jersey: The Island Break
Relax... Revitalise... Reconnect...
Life is so busy sometimes we forget to think about how we feel.
To slow down for a moment and allow ourselves to relax, revitalise and reconnect.
In Jersey 'Island life' is the perfect tonic to the stress of daily life. A restorative experience that leaves you ready to dive back in.
Join the conversation #theislandbreak
Travelling to Jersey
Jersey can be reached in 2 hours 10 minutes direct from Aberdeen Airport. There are convenient weekly Saturday flights throughout the summer season from the 4th May until 14th September 2019. There are also regular flights departing from up to 25 regional UK airports and ferries from the ports of Poole, Guernsey and Portsmouth.
EXCLUSIVE OFFER FOR 2019: All JerseyTravel.com customers will receive 20% off access to the Northern Lights Lounge at Aberdeen Airport for departures during 2019! Simply show your confirmation at check-in to be provided with a discount card.
Flight only available from £129 per person including 20kg luggage!
Unmissable offers from JerseyTravel.com from Aberdeen
FREE NIGHTS & FREE DINNERS*
PRICE MATCH GUARANTEE
If you find any of the same holidays for less, we'll beat it by £10! View more information about our Price Match Guarantee.
Prices will increase with demand, book early to get the best deal.
All prices are per person based on 2 sharing correct as of 17.07.19. Departures are from Aberdeen and include 20kg hold baggage. All accommodation is bed and breakfast except the Mayfair Hotel which includes free half-board. Other dates and airports available, prices will vary. Free night, dinner and upgrade offers and terms vary across properties.
Great Things To Do
Jersey offers a wealth of activities, attractions and events throughout the year. View all things to do in Jersey. Here are some of our top picks.
Jersey Zoo
Jersey Zoo
Founded in 1959, the Trust is now an international charity and conservation body headquartered in Jersey.
Walking
Walking
Jersey's variety of terrains, beaches and paths makes the island a walking paradise.
Jersey Museum
Jersey Museum
Jersey Museum presents the history of the Island from 250,000 years ago when the first people arrived.